Goldschmidt 2000

An International Conference for Geochemistry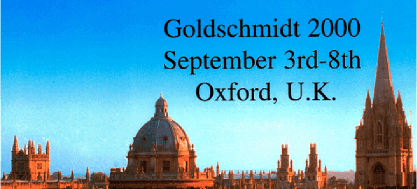 September 3rd - 8th, 2000
Oxford, UK


Second Circular

Goldschmidt 2000 is the foremost conference for geochemistry this year. It is sponsored by the European Association for Geochemistry and the Geochemical Society, and will cover all the important topics in geochemistry. The conference will begin with the Ice Breaker Party at 3pm on Sunday September 3rd, and will finish at 1pm on Friday September 8th. The afternoon of Wednesday September 6th will be free for delegates to explore the charms of Oxford or participate in the excursions that are planned (as detailed below). Both oral and poster presentations are planned: no oral presentations will occur during the poster sessions to ensure that these presentations receive a high profile among the delegates.
The conference will cover a broad spectrum, with the following symposia planned:
| | |
| --- | --- |
| Terrestrial Planets and Meteorites | Prof. Alex Halliday & Dr. Ed Young |
| Chemistry and Dynamics of the Earth | Prof. Bernie Wood & Dr. George Helffrich |
| Subduction Zone Processes | Dr. Jon Blundy, Prof. Chris Hawkesworth & Prof. Dave Rubie |
| Rapid Climate Change (Continents/Oceans) | Dr. Edouard Bard & Dr. Frank McDermott |
| Biological Geochemistry | Prof. Derek Lovely, Prof. Rob Raiswell & Dr. Matthew Collins |
| Ocean Circulation: Past and Present | Prof. Bill Jenkins & Dr. Gideon Henderson |
| Flow and Reaction of Fluids in Crust | Dr. Marion Holness & Prof. Terry Seward |
| Weathering and Erosion: Mechanisms and Rate | Dr. Mike Bickle, Dr. Niels Hovius & Prof. Mike Summerfield |
| Mineral Surfaces and Reactions | Dr. Vala Ragnarsdottir & Prof. Andrew Putnis |
| Mantle Dynamics and Melting | Dr. Eric Hauri & Dr. Tim Elliott |
| Life in Extreme Environments | Prof. Mike Russell & Dr. Everett Shock |
| Computational Geochemistry | Dr. Keith Refson & Dr. John Brodholt |
| Chemistry and Microbiology of Pollution | Dr. Adrian Bath & Dr. Barbara Sherwood-Lollar |
| Open Sessions | |
Registration:
More than 800 potential delegates have already registered their interest in this conference, and we therefore expect that there will be a large number of delegates registering for the meeting. Submitted abstracts will be reviewed by the organising committee, and the acceptance of abstracts and registration will be confirmed in June. The registration forms are now available from http://www.campublic.co.uk/science/conference/Gold2000/front.html .
Registration Fees:
Every effort has been made to keep registration fees to a minimum, especially those for graduate students. The registration fee for delegates will 150 pounds, that for graduate students only 60 pounds; the abstract fee is 35 pounds. This reduced price registration has been extended right up to the registration deadline of May 15th, as this second circular is being distributed later than it was originally hoped. Payment can be made in pounds sterling, dollars, Euros, French Francs and German Marks. Registration will take place once the payment has been received by Cambridge Publications.
Accommodation:
Forms for requesting accommodation are available from http://www.campublic.co.uk/science/conference/Gold2000/front.html . Delegates will be accommodated in Oxford Colleges or at Oxford Brookes University. Oxford University is unmatched in the UK both for the age of its foundation (twelfth century) and the elegance of its College architecture. The Colleges are all within walking distance of the lecture theatres. The accommodation available in Oxford is limited to about 1000 places, so we recommend that those wishing to attend the meeting complete their registration and accommodation booking and payment as early as they can. Accommodation may be booked in Oxford's Colleges and breakfast will be provided at no additional cost. These delegates may also book evening meals. More economical accommodation is available at Oxford Brookes University, which is linked by a frequent bus service to the city centre. Payment can be made in pounds sterling, dollars, Euros, French Francs and German Marks. The request for accommodation will not be processed until the payment has been received by Cambridge Publications.
The Awards Banquet:
The Awards Banquet will be held in Keble College (http://www.keble.ox.ac.uk/conference/catering.khtml) which boasts one of the finest feasting halls in Oxford. A banquet in Keble College Oxford has been described as a 'once in a lifetime experience', and the organising committee hope that as many delegates as possible will be able to enjoy this occasion. Places for this are limited to 400, and early booking is recommended.
Eating in Oxford:
The limited number of restaurants and pubs in central Oxford may struggle to cope with the influx of 1000 geochemists, and use of College facilities for lunch and evening meals is recommended. Sandwiches will be available at one of the conference locations at lunchtime each day, but a proper cooked luncheon is available at Keble College. Most delegates should plan to use one of these options, as few delegates will be able to find lunch in the city during the time available. Delegates who choose not to book evening meals each night, or those wishing to sample the hospitality at a different College may also book a place at a College Dinner in a different College.
Excursions:
A range of excursions is planned for Goldschmidt 2000. If there is sufficient interest among delegates these will include a visit to Stratford-upon-Avon to see a Shakespeare play (with dinner), a tour of the famous Cotswold villages (with tea) and special guided tours of the geological and mineralogical displays of the Natural History Museum in London. Further details will be available shortly.
Transport:
The centre of Oxford was designed for horses and the occasional carriage and is not well suited to cars as parking space is extremely limited. We strongly recommend that delegates plan to come to Oxford by train or by coach as these services are both rapid and frequent. Oxford is less than an hour from London by train, and this service operates every 30 minutes during the day. There are also direct coach services between Oxford and the London Airports.
Conferences of interest:
We shall be making links from the Goldschmidt 2000 home page to other conferences that may be of interest to delegates. One meeting many delegates may be interested in attending is the 2000 Mineralogical Society of America short course on Transformation Processes in Minerals being held in Cambridge UK on September 1st and 2nd (further information can be obtained from http://www.minsocam.org/MSA/Short_Courses.html ). Please email us at conference@campublic.co.uk to add further meetings to this section.
Further Publication Services:
Cambridge Publications specialises in offering a conference service tailored to the needs of delegates and organising committees. We are able to manage all aspects of a conference, including publications on paper, CD and the web, communications with authors and convenors, managing accommodation and exhibition arrangements, and ensuring the smooth running of the meeting. We have performed most of these tasks for Goldschmidt 2000, but are also happy to carry out a subset of these operations where this is more convenient to conference organisers. If you are involved in organising a conference in the next two years and would be interested in exploring how we could help you ensure the most effective and efficient management of your meeting, please do not hesitate to contact us. You can reach Cambridge Publications by email at beattie@campublic.co.uk, by fax or 'phone at (44) 1223 333438 or by post to PO Box 27, Cambridge CB1 8TR, UK.
---
Cambridge Publications home page
---
Cambridge Publications
PO Box 27, Cambridge, CB1 8TR, U.K.
Phone and Fax: 44 (1223) 333438
email conference@campublic.co.uk